WOOO I'm coming to love Tuesdays because of this fun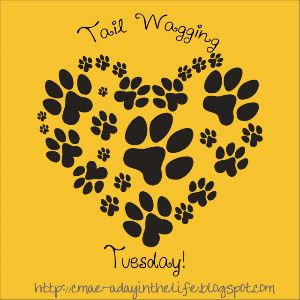 I love showing off my baby and this gives me the perfect excuse to do this! Thanks CMae over at Live What You Love for giving me a reason to post fur baby pictures :) you rock!
ok ... so this Tuesday's assignment was Your Pet's Favorite Toy!
I had to think and think about this one because my baby has a stick fetish (which is kind of a toy?) and he loves his blankie ... he can't sleep without it (not a toy right?) but he does have a new gumby chewy toy, but we have no pictures with that ... so ... this is what I settled on
His favorite toy is his best friend Bailey Sue :) Bailey is my parent's chocolate lab and we've had her for almost four years :) she was our first house dog ... then when I graduated I got Mr. Dalton my golden lab and of course he's a house baby too. They are best friends and forever playmates. It started with Dalton trying to walk her when he was a baby and has morphed into them being inseparable :)