I'm feeling blah now ... I wasn't earlier ... but I got stuck inside a school for the sunniest part of the day. Now ... it is threatening to rain on my sunny parade. I wanted to link up with Kori over at Blonde Episodes for Fashion Friday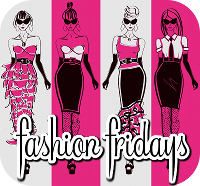 I think this is so much fun and I found some great things from PINK! that has helped to prevent the rain from ... well ... raining on my parade.
Victoria Secret Pink Nation BEACH BASH!
Just for today I'm going to pretend like I was there ... shh please don't interrupt my dreaming
Happy Friday Loves! Don't let the clouds rain on your parade! Just pretend you're in Miami with Chanel Iman and Behati Prinsloo in shorts and a PINK! tank with your feet in the water :) Willing you sun and heat for the weekend!