I'm procrastinating ... I have this work I could be doing/ should be doing ... but alas the Blogger was calling my name and then I saw this link and I had to do it. So, instead of doing work, I'm linking up with
Carissa at lowercase letters
for Miscellany Monday!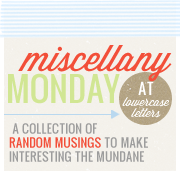 I love the saying "a collection of random musing to help make interesting THE MUNDANE" :) so here we go
1. I am sleep deprived! I need like three straight days of sleeping till I feel like crawling out of bed and then doing a whole lot of nothing once I'm out of bed. I might get this wish starting Friday (Good Friday ... so no school) at least the part about sleeping until I feel like getting up ... but of course in the typical life of an adult ... once I get up I will have stuff to do. But as long as I could get some stinkin sleep I will be happy.
2. This week leading to Friday will be hell. Woo ... do I have a list to do ... this is the type of to do list where you put something on the list that you've already done, just so you can cross it out and make yourself feel better.
3. Why I thought entering a masters program while long term subbing was a good idea I can't remember ... why did I think that? UGH ... I need someone to remind me that I can have bad ideas.
4. My favorite cousin is coming home for Easter this weekend :) I can't wait to see her!
5. I must find time to fit in my tv schedule at some point this week ... I have so many shows that need watched:
From Sunday: The Real Housewives of the OC and Breakout Kings
Monday: Bethenny Ever After and Gossip Girl
Tuesday: One Tree Hill, Body of Proof, and Pregnant in Heels
Wednesday: America's Next Top Model and Criminal Minds
Thursday: Grey's Anatomy, Private Practice, and The Real Housewives of New York City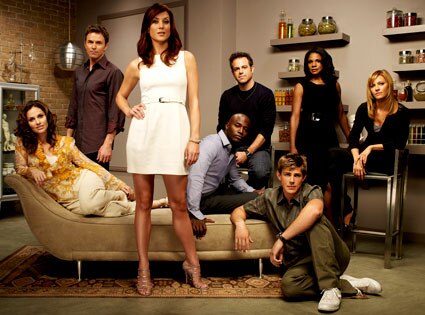 After Family Dinner on Easter I might have to hole up on my couch and have a TV marathon ... I'm going to be desperate!
I hope everyone enjoyed the random spaces of my mind and has a Marvelous Manic Monday!